Happy New Year
2014 is a special year for Enable, being our 21st birthday at the beginning of June.
It is also a start of an era when the "Operational Management" of Marketing and Promotional Campaigns covering compliance, security and logistical implementation will be even more vital. It is worth reiterating that it is not just about each one of these disciplines in isolation, but a combination of all three in unison, prior, during and post to ensure successful implementation and maintenance of integrity of any marketing activity.
We look forward to working on a number of interesting campaigns in 2014 and beyond and hope you have a great 2014 with us.
It should be noted that from all the cards despatched only 1 of the individuals responded noting the deliberate mistake of the missing 'I' from Compliance on the word search challenge. A learning here that sometimes your "eyes", as a result of our "I" are deceived by what they see. That's the benefit of having an independent third party working with you.
Questions for Enable Christmas Card
1. Who sung 'I wish it could be Christmas Everyday'? A: Wizzard
2. Name Santa's 9 reindeer, including Rudolph! A: Comet, Dasher, Dancer, Prancer, Vixen, Cupid, Donner, Blitzen and Rudolph
3. What Christmas item was invented by London baker and wedding-cake specialist Tom Smith in 1847? A: Christmas Cracker
4. The character Jack Skellington appears in which 1993 Tim Burton Film? A: A Nightmare before Christmas
5. The movie, 'A Miracle on 34th Street', is in what city? A: New York
6. Which country has a tradition of a witch dropping gifts for children through the chimney at Christmas? A: Italy
7. 'Advent Calendars' originated in which country? A: Germany
8. Rabanadas (King Cakes), are the Portuguese or Brazilian version of which popular French dessert? A: French Toast
9. In which south-east Asian country would Christmas dinner not be complete without a slice of bibingka? A. Philippines
10. The traditional festive marathon of eating and drinking known as Julefrokost is in which country? A: Denmark
11. What Christmas food is made from "marshworts"? A: Cranberry sauce
12. What famous dessert does the whole of Colombia enjoy during Christmas? A: Natilla
13. What famous sporting race happens each year on December 26th in Australia? A: Sydney to Hobart Yacht Race
14. The 'Yule Lads' are a traditional part of an Icelandic Christmas. What are they? A: A band of thirteen gift-giving goblins
15. One fairly modern Christmas ritual is the British monarch's broadcast to the people on Christmas day. A) Who was the first monarch to be broadcast? B) What year was the broadcast? C) And who wrote the first kings speech? A: a.George V b.1932 c.Rudyard Kipling
16. What material is the common Swedish Christmas decoration the Julbukk made from? A: Straw
Conundrum Answers
Craig Played O Christmas tree on the flute
Emma played Jingle bells on the guitar
Josh played we three kings on the cello
Neil played 12 days of Christmas on the violin
and Charlotte played the first noel on the piano
Christmas Crossword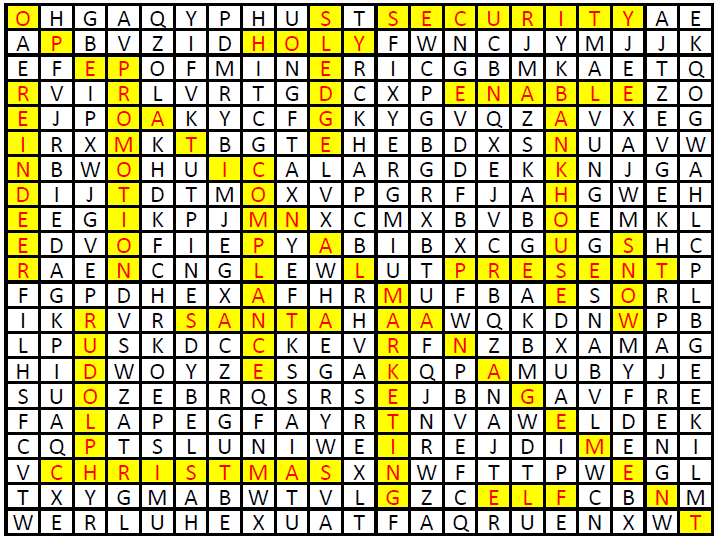 Bankhouse,Promotion,Christmas,Present,Compliance,Reindeer,Enable,Rudolph,Elf,Santa,Holy,Security,Marketing,Sledge,Operational Management,Snow